Introduction

DROPCO is India's leading manufacturer of Centralized Lubrication System having factory located in the industrial area of Faridabad Town. The company is covered under ISO 9001-2015 and is accredited with MSME, NSIC & SSI, Few of our esteemed customers are SAIL, TATA, ACC, L&T, BHEL DSP, RCF, GTRE, UCIL, HAL, Aditya Birla Group, HEC, MBSEL, JSW, FLOVEL, HPP Energy, APE Power Everest Global Godrej, Samsung, JBM Honda, Kessels Engg., Rotec and many more.

The company was established in 1995 and since then the company has kept pace with the changing demands of customers with amazing development & innovating new concepts, improving existing products like as Hand Operated Piston Pumps. The company has achieved the target of sale through developing amazing range of products, such as Dual Line systems & Tailor-made Oil Circulating Systems, which can complete any foreign products of the line.

It has always been a constant endeavor of DROPCO to satisfy its customers with better & more advanced products in industrial segment. This is due to the company's continuous research & development and over the years this practice has breathed life in to our products.

DROPCO's skilled teams of technical engineers & non-technical staff are trained in understanding customer requirement working closely to solve individual problems and to supply customers desired lubrication system for any project.

Why Us?

Following are some of the distinguishing factors that set us apart:

Competitive pricing policy

Extensive industry experience

Customer oriented approach

Stringent quality measures

State-of-the-art-infrastructural set-up

Prompt after-sales-service

Skilled team of professionals

Timely delivery of final products.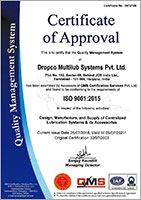 Read More