Hand Operated Piston Pumps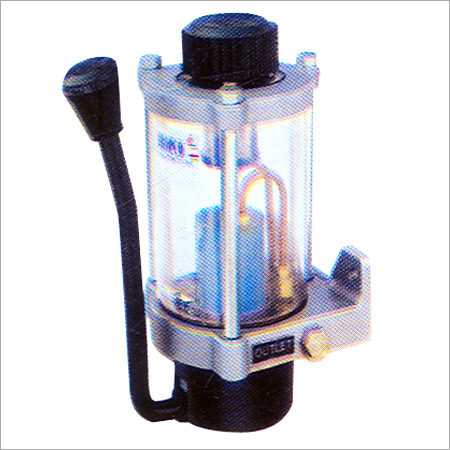 Hand Operated Piston Pumps
Price And Quantity
Product Specifications
Electric Watt (w)

Oil Well
Product Description
With the aid of our widespread distribution network, we are competent to bring forth an exclusive array of Hand Operated Piston Pumps. Our offered piston pumps have oil reservoir of several capacity, which is appropriate for manual centralized lubrication for light duty machines like grinding machines, small power presses and die punching machines. Due to its salient features like rugged design, corrosion resistance and long working life, our Hand Operated Piston Pumps is highly recognized in the market.
Model DMH - 250-4

Reservoir 0.25 ltr. (Aluminium)
Discharge - 4cc per stroke
Pr. Setting - 10-12 kg / Cm2
Model DMH - 600-6

Reservoir 0.60 ltr. (Aluminium)
Discharge 6cc per stroke
Pr. Setting - 15 kg / Cm2
Model DMH - 2000-12

Reservoir 2 ltr. (Aluminium)
Discharge 12cc per stroke
Pr. Setting - 20 kg / Cm2
FAQs of Hand Operated Piston Pumps:
What is cylinder close by siphon?
With a profound well cylinder handpump, the cylinder is set in a chamber beneath the water level, which is generally 15-45 m underneath the ground. The siphoning movement by the client at the siphon stand is moved to the cylinder by a progression of associated siphoning bars inside the rising primary.
How does a siphon cylinder function?
Cylinder siphons are strong and moderately basic gadgets. A fundamental cylinder siphon is comprised of a cylinder, a chamber, and two valves. The siphon works by driving the cylinder down into the chamber, accordingly compacting the media inside. In a hand siphon, this is typically air.
What are utilizations of cylinder siphon?
Cylinder siphons can be utilized to move fluids or compacted gases and can likewise siphon thick media and media containing strong particles. Cylinder siphons are utilized for water and oil hydrodynamics, modern handling gear, high tension cleaning and the siphoning of fluids.